This week Alphons Geerlings LL.M. and Sam van den Berg were visiting Artemis Hogeschool voor Stylung at the Prinsengracht in Amsterdam. It was again a guest lecture with great interest from students and teachers.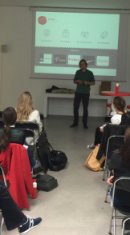 The focus was the intellectual property of the stylist. In this lecture the case of Kluwer and Lamoth was discussed. In this case it is the question which party has the copyrights of photos:
A) Lamoth, the photographer who made the photos.
or
B) Kluwer, the stylist who composed the photographed setting.
In 1990 the high council considered this case. It was decided that in this case there can be spoken of shared copyright, both parties had an essential role in the creation of the work. In shared copyrights the parties have to decide together what will happen with the work.
Click here for the full statement it the high council. (in Dutch)
It is important to be aware of your intellectual property as a maker in such situations. In this way you can make clear arrangements at the beginning to avoid conflicts and fully focus on the thing you are good at: creating.